Who could ask for anything more?
Patents, awards, contracts and customers! There are times when you are so grateful, you just have to shout it out and tell all your friends. This year has been especially productive and rewarding making all of us at Envision so incredibly honored and proud.
We finished last year receiving recognition from industry analyst, Ventana Research, calling us the Hot Vendor of the Year. This set us off for a great start where early in 2017 we were awarded the TMC elite status of the WFO Innovation Award noting exceptional innovation and our commitment to improving the customer experience.
The tireless efforts of our team earned us the US Government GSA Contract status. Earning the GSA contract status is more than just completing an application. It is a time consuming and rigorous process for which we are so proud of our team for their tenacity to achieve this status so we can continue to make an impact in this important vertical.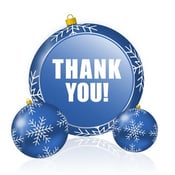 In the end, however, we are most grateful for our customers. We've been honored by their confidence in us from every sector from finance to credit unions to government and more. It is our customers who inspire us to make innovative products that help them, in turn, provide an excellent customer experience. So, to them we say,
"Thank you! We wish you and yours a Happy Holiday and success in the New Year!"
~Your Envision Customer Success Team